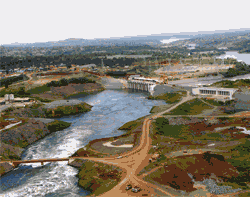 250 MW Hydro-electric power station on the Nile River
Will significantly improve the supply of safe and reliable electricity
Reduces dependence on expensive imported fuel
One of the largest investments ever in sub-Saharan Africa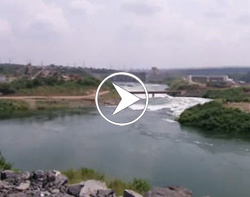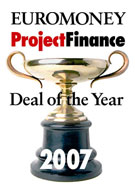 Bujagali Hydroelectric Project
Largest Hydroelectric Project Ever Undertaken in Africa Will Double Uganda's Capacity
The Bujagali Hydroelectric Project ("Bujagali HEP"), awarded the Africa Power Deal of the Year 2007 by Euromoney "Project Finance Magazine", is a 250 MW station currently under construction on the Nile River in Uganda, Africa. The Bujagali HEP is being undertaken as a "Public Private Partnership" between the GOU and the State-owned transmission company, Uganda Electricity Transmission Company Limited ("UETCL") on the one hand, and Sithe Global and IPS on the other.
Sithe Global and Industrial Promotion Services (Kenya) ("IPS") were selected pursuant to a competitive international bidding process and, along with the Government of Uganda ("GOU"), comprise the owners of the project. When fully commissioned, the Bujagali project will double Uganda's effective generation capacity. It represents one of the largest private power sector investments ever made in Sub-Saharan Africa.
Uganda has one of the lowest rates of electrification in the world and currently faces a serious economic crisis due to the lack of power generating facilities capable of producing electricity at affordable prices. Uganda's electricity demand growth has outstripped the capacity of existing hydroelectric power generation facilities on the Nile River, causing severe disruptions to Uganda's economic activities and forcing reliance on expensive emergency generators that burn diesel transported by tanker trucks over long distances. The Bujagali HEP will provide substantial additional hydroelectric power generation capacity thus addressing a national policy priority and facilitating Ugandan economic growth.
The Bujagali HEP will comprise a dam and hydropower station of 250 MW capacity on the Nile, ten kilometers from the outflow of Lake Victoria, downstream of the existing Nalubaale and Kiira dams. The project will provide power from an indigenous and renewable resource with low carbon dioxide emissions, re-utilizing water already used for power generation at the upstream dams and therefore contributing to sustainable development. BEL will make available generating capacity and will sell power to UETCL under a power purchase agreement. The five generating units will be commissioned sequentially as each becomes available, ensuring that the benefits of the project will be delivered to the people of Uganda at the earliest opportunity. The first unit is expected to be commissioned during the fourth quarter of 2011.
Financial closing occurred in December 2007 with multilateral and bilateral debt being provided by European Investment Bank, International Finance Corporation ("IFC"), African Development Bank ("AfDB"), Nederlandse Financierings-Maatschappij voor Ontwikkelinsslanden N.V. ("FMO"), Societe de Promotion et de Participation pour la Cooperation Economique ("Proparco")/Agence Francaise de Developpement ("AFD"), DEG-Deutsche Investitions-und Entwicklungsgesellschaft MBH ("DEG") and KfW. Commercial debt is being provided by Standard Chartered Bank and Barclays/Absa Capital with Partial Risk Guarantee cover provided by International Development Association.
James McGowan
Senior Vice President, Development
Project Manager: Bujagali, Teramo
Jason Oliver
Senior Vice President, Development
Project Manager: Bujagali, GNP Mariveles
EXTERNAL LINKS
For more information on the Bujagali HEP, see www.bujagali-energy.com.
For more information on IPS, see http://www.akdn.org/akfed_ips.asp.
For more information on GOU, see www.statehouse.go.ug.