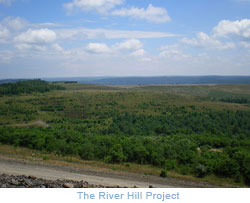 290 MW waste coal fired electric power plant
Karthaus township, Pennsylvania
Will create approximately 1,200 construction jobs at peak
Supports 250-300 indirect jobs in Pennsylvania
Removal of over 100 years of waste left by previous mining operations
The River Hill Project
The River Hill power project is a 290 MW waste coal fired station in Clearfield County, Pennsylvania. The project commenced preliminary construction activities in January 2007, with access roads and bridges, and plant site preparation work in progress.
The project is designed to utilize 70% waste coal fuel blended with 30% market based coal to achieve the optimum fuel specification for long term reliability and most cost effective initial investment. Cooling and process water for the project will be drawn from the Susquehanna River with the maximum re-use of water included in the design to conserve natural resources to the extent possible. Thirty years of fuel are currently contracted for to assure availability at competitive pricing. All ash produced by the project will qualify for "Beneficial Use Certification" and will be used as alkaline addition in surrounding coal mines to control subsequent acid discharge from their operations as well as for remediation of existing discharges from abandoned mining operations from the past two centuries.
The River Hill plant design is based on compliance with "BACT" (Best Available Control Technology) and LAER" (Lowest Achievable Emission Rate) standards, and as such, incorporates a polishing SO2 scrubber into its design to reach emission levels not achievable by the Circulating Fluidized Bed (CFB) combustor alone.
Due to its dedicated waste coal supply, River Hill is expected to be one of the lowest cost sources of electric energy in the PJM market. The project will deliver its output to the PJM grid for sale to franchised utilities with native customer demand within the PJM territory. Because it qualifies as a Tier II renewable resource, debt for the project is expected to be provided by cost effective tax exempt bonds issued from the state's allocation for such projects.
Stephen Poje
Senior Vice President, Development
Project Manager: River Hill