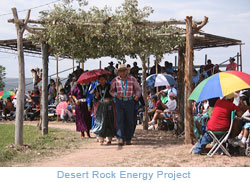 1,500 MW mine mouth coal-fired electric power plant
San Juan County, New Mexico
Expected to have the lowest emissions rate of any coal-fired power plant in the US
Estimated $4 billion investment will spur economic development for the Navajo Nation
Developed jointly with the Dine' Power Authority
Desert Rock Energy Project
The Desert Rock Energy Project is a proposed 1,500 MW mine mouth coal-fired electric power plant located southwest of Farmington, San Juan County, New Mexico. The projects is being jointly developed with the Dine' Power Authority, an enterprise of the Navajo Nation and chartered to promote and facilitate the development of energy projects on the Navajo Nation. The project would be fueled by low sulfur coal mined from the adjacent BNCC Navajo Mine, and will provide needed electrical power to utilities in the Southwest. The Navajo Nation, through the DPA, has the option to become an equity owner in the project.
Desert Rock is expected to have the lowest emissions of any power plant in the United States by combining a supercritical coal boiler, advanced flue gas treatment and low sulfur Navajo coal, it is also equipped with a hybrid natural draft dry cooling tower which reduces water consumption by 80 percent when compared to a typical wet cooled plant.
The Desert Rock Energy Project's Draft Environmental Impact Statement (EIS) has been released by the Department of Interior, Bureau of Indian Affairs and recommends approval of the Preferred Alternative which includes the 1,500 MW Desert Rock project and associated rights of ways. The Notice of Availability of the Draft EIS was published in the Federal Register June 22, 2007.
Using the most effective technology available, the project will be able to control over 90 percent of NOx emissions, 98 percent of SO2 emissions, and 80 percent of the mercury emissions. The project is designed to have a heat rate of less than 8,700 Btu/kWh, 15 percent more efficient than similar subcritical plants.
The construction of this $4 billion power plant will make the project one of the largest taxpayers on the Navajo Nation. The estimated annual benefits to the Navajo Nation will exceed $50 million annually, which is more than 30 percent of the current Navajo Nation's general budget. The plant will average 1000 employees during the 4 year construction period, and 200 full time personnel during normal operations.
Desert Rock will provide over $5 million dollars to impacted Navajo Chapters for capital improvements to Chapter houses, and Senior Centers, as well as Scholarships and job training. In addition to development activities with the Navajo government, Desert Rock Energy Company, LLC is becoming integrated into the Navajo community. As a major sponsor of the 2007 Navajo Nation Fair and Rodeo which showcases Navajo art, song and dance, fry bread competitions, and other activities that reflect the Navajo culture, Desert Rock is committed to the cultural, economical, and environmental stewardship of the community it serves.
Jim McGowan
Senior Vice President
Project Manager: Desert Rock, Toquop
EXTERNAL LINKS
Desert Rock Energy Project
Navajo Nation
U.S. EPA - Air Permit Website
Bureau of Indian Affairs - EIS
Navajo Nation - EPA
New Mexico Power Project Applies to Use State of the Art Carbon Capture and Sequestration